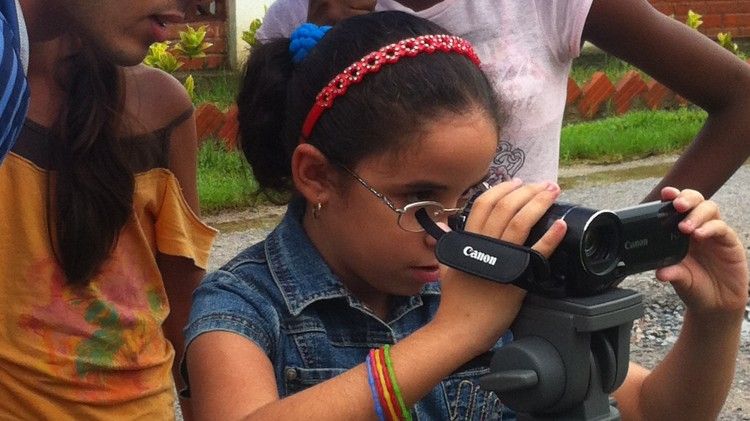 What is Cámara Chica?
Cámara Chica is a filmmaking project which empowers young people around the globe to tell visual stories about their lives and communities. It uses digital storytelling to nurture skills and creativity, and offers a lasting legacy by providing filmmaking kit, support materials and a workshop model designed to continue activity beyond an initial British Council programme.
Cámara Chica is delivered in collaboration with our UK partner, Into Film, which puts film at the heart of children and young people's education, together with a range of in-country partner organisations.
To date, Cámara Chica programmes have been run in Cuba, Venezuela and Nepal, and a further programme is planned for Egypt in 2021.
What does it involve?
The programme introduces local educators in each country - teachers, community centre or film club leaders - to filmmaking basics, giving them the know-how and confidence to use filmmaking techniques and equipment when working with young people. These teams of educators then pilot a workshop with young people, helping their young creatives produce their own short films. All training is led by experienced UK filmmakers and supported by local mentors from the media and arts sectors. A written resource provides additional guidance, activity sheets, and assignments.
Cámara Chica in Cuba
Our original programme ran in 2013, working with six different community centres across Cuba to train community leaders, film students, and 66 young participants. 11 films were made and six sets of filmmaking equipment were provided to support future filmmaking projects - and Cámara Chica Cuba is still running today with a hugely expanded network of film clubs.
Cámara Chica in Nepal
More recently, Cámara Chica headed to Nepal in November 2019, working with 13 different schools across the country. The project provided high-quality training to 13 educators and 145 young people aged between 10 and 17, and everyone who took part learned something new and is now using the skills they learned to use filmmaking to help explore their own lives.
Educators picked up the basics of filmmaking and developed techniques to lead production activities with young people. By the end of their training, the majority were confident they had the knowledge and skills to teach digital filmmaking.
Over the course of their workshops, young people successfully completed 14 short films on themes and stories of their own choosing, guided by their teachers and with the support of UK filmmakers and local mentors.
Find out more about Cámara Chica - and watch a variety of films made by young people from Nepal here
The legacy of Cámara Chica
In Cuba, film training using the Cámara Chica model has continued through 11 community film hubs spread across the country, generating a body of films reflecting young visions and stories. In March 2019, a visit by HRH The Prince of Wales and the Duchess of Cornwall to the Projecto Muraleando in Havana, was filmed by a team of young people trained through Cámara Chica.
In Nepal, support moved online under COVID-19 lockdown using an Into Film resource called Six Sessions from Story to Screen. This resource supports educators to move at their own pace through six sessions to create a film. Cascading this learning out to the mentors reinforced skills and techniques developed during the Cámara Chica programme, and helped build a team that can continue to use the filmmaking kit gifted to schools and communities in years to come.
Want to find out more?
Cámara Chica, in partnership with Into Film and different local organisations in each country, is on-going. For further information please contact the Film Team at films@britishcouncil.org.
Group title
A global programme using Film with young people