Animation Salon 2: curating experimental and artists' animation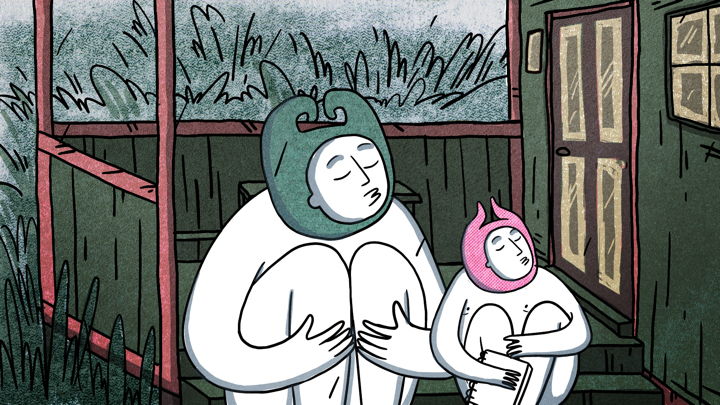 As part of our programme of occasional Filmmaker Salons, we're delighted to offer a specific focus on Animation, with three Salons offered in partnership with Animate Projects. In the first of these three sessions we invite you to join us for a virtual coffee break with four leading international curators/programmers of experimental and artists' animation.
About the Animation Salon
Wednesday 21 October 2020 - 11am (UK)
An informal round table discussion with Q&A, on Zoom, for about an hour, and free to join.
Helen De Witt (BFI London Film Festival Experimenta) will be talking with Edwin Carels (International Film Festival Rotterdam), Aneta Ozorek (Kaboom Animation Festival, Amsterdam) and Wiktoria Petzer (Vienna Shorts), and Herb Shellenberger (Berwick Film and Media Arts Festival), about the place of experimental and artists' animation in exhibition in galleries, experimental and mainstream festivals, online, and in the context of COVID-19.
Part of Animate Projects' Accelerate Sessions series of online conversations with animation artists and curators, supported by Arts Council England's Emergency Response Fund.
Speakers
Helen De Witt (Chair)
Helen is a film curator lecturer and writer. She is a programme Advisor for the London Film Festivals' Experimenta strand for artists' film and video, and previously BFI's Head of Cinemas, and BFI Festivals Producer. Other roles include Head of Acquisitions at Cinenova Women's Film Distribution and the first Head of Cinema at the Lux Centre for Film, Video and Digital Arts. She teaches at Birkbeck and University of Arts London.
Edwin Carels
Edwin has worked as a programmer at International Film Festival Rotterdam for many years, and currently curates Art Directions, the festival's wide-ranging programme of art installations, performances and exhibitions. He's worked on exhibitions with Chris Marker, The Quay Brothers, Robert Breer, Al and Al, and Ken Jacobs, among many others. He curated the exhibition Graphology, exploring a genealogy of automated drawing, at M HKA, Antwerp and The Drawing Room, London.
He has written extensively on media-archeology, visual arts, film and animation. He teaches at the KASK/Faculty of Fine Arts of the University College in Ghent, Belgium.
Aneta Ozorek
Aneta is an Artistic Director of Kaboom Animation Festival in Amsterdam and Utrecht, a film curator, and education expert. She has many years' experience organising film events, educational workshops, exhibitions, and festivals across Europe. She is Head of Short and Feature Section of CEE Animation Pitching Forum, member of the board of REX Animation Film Festival and Short Film conference.
Wiktoria Pelzer
Wiktoria co-curates the Animation Avantgarde programmes at VIS Vienna Shorts Festival. She has been programmer and director of the Stadtkino im Künstlerhaus, Vienna's art house city-cinema since 2017. She is also co-responsible for the distribution Stadtkino Filmverleih. She was programme coordinator for the Crossing Europe Filmfestival in Linz for seven years, and she still curates a special programme at the festival.
Herb Shellenberger
Herb is Programmer of Berwick Film & Media Arts Festival, where he's worked since 2016. He curated the series Independent Frames: American Experimental Animation in the 1970s + 1980s which premiered at Tate Modern and toured internationally. He's curated screenings for institutions such as Anthology Film Archives, Flaherty Seminar, Irish Film Institute, LUX, and Lightbox Film Center, Philadelphia.
Herb is Editor of Rep Cinema International, a newsletter focusing on repertory and archival film programming around the world, and has written for Art-Agenda, Art Monthly, The Brooklyn Rail, International Film Festival Rotterdam, LUX, Vdrome and Walker Art Center.
Who is this for?
This session is primarily aimed at artist animators, film programmers and visual art curators.
The Salon is free to join, but spaces are limited.
Registration
Register free for this event by clicking here.
What you'll need
To take part you will need a computer/laptop/tablet/or mobile and wifi connection (preferably with video – and you'll need audio if you want to contribute to the live discussion). You can simply click the link we send you to join directly from your browser, but if you download Zoom in advance you may find it easier to participate.
Bring your own coffee/tea/latte/decaf cappuccino.
Accessibility
We are working hard to make all of our online sessions accessible. Unfortunately live closed-captioning yet not be available. If you require a live transcript we would like to encourage you to use otter.ai/ – a free software system that live-transcribes audio on your laptop. The session will also be recorded and a transcript will be made available within one week (if you would like this, please email to request it after the session).
Coming up...
Our next session with Animate Projects is on animated documentary, programmed by Alys Scott-Hawkins and Ellie Land at Animated Documentary, on 4 November, with animators Sigune Bauman, Mary Martins, and John Summerson. And on 12 November, we've got a round table on animation and VR, with Tom Higham (York Mediale), Liz Rosenthal (Venice Film Festival), Juergen Hagler (Ars Electronica), Helen Starr (Mechatronic Library), and Ulrich Schrauth (LFF Expanded). More details soon.
Sign up to our newsletter
Get the latest updates and advice on applications, scholarships, visas and events.